It's time. This girl's bikini wearing days may have come and gone. Maybe it's the gall-bladder talking, or maybe I'm realizing I'm closer to 30 than 20. My six pack aint what it used to be and it's time a little modesty came into play.
That being said; it's a NIGHTMARE finding a cute tankini! I'm sick of my target suits that last 1 season and aren't worth a dang the next. One site was great; www.everythingbutwater.com. Has anyone heard of that? Here are a few I found online but good lawd this aint gone be easy.
This one from Macy's
I love the yellow stripe. It's fun and still young which I love. Not crazy about the rosettes up top, but oh well.
This top from Bloomingdales is adorable! Plus I'd only need to buy the top since it would go with black bottoms I already have. The $140 price tag? No way.
This one is similar but again, loving yellow for some reason.
This Lucky suit is maybe my favorite! SUCH a cute pattern.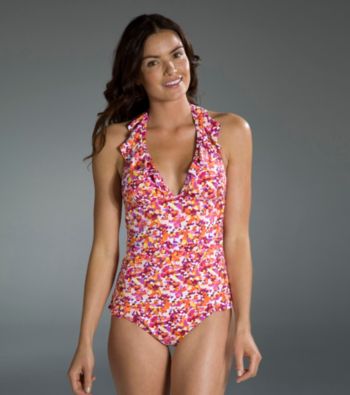 Another cute ruffle option.
Then there's the 1piece route. I don't want to look like I'm headed to water aerobics, but I have to admit this is pretty adorable for a 1 pc.
From Bloomingdales
Did I just buy myself a one-way ticket to Frumpy-ville? I hope not but these look WAY more comfortable than me squeezing into a 2 piece; scars all a mess.
Anyone else make the switch? Where is your favorite place to look for a good tankini or one-piece?